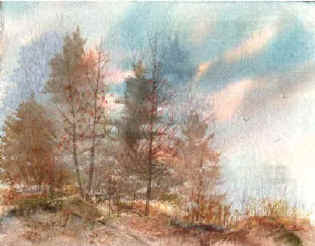 all-creatures.org
ARCHIVE OF
COMMENTS AND DISCUSSIONS
QUESTIONS AND ANSWERS
Our subjects cover: religion (Christian, Jewish and others); diet and lifestyle (vegan and vegetarian); and other miscellaneous subjects.
Horseback Riding and Animal Rights:
Can They Ever Be in Harmony?
Comments by: Maynard S. Clark - 26 Feb 2002
How about all those horses who are being rounded up in the Western US states?

If the historical Jesus was NOT a practicing vegetarian, we have the serious conflict with Genesis 1, where the human creatures were made vegan. If the Creation was God's perfect work, as Christian have historically taught, then how could Jesus have expressed the perfect will of God without being vegan, since being vegan was integral to the original Creation?
Return to Horseback Riding
| Home Page | Archive | Discussion Table of Contents |
Watercolor painting by Mary T. Hoffman - God's Creation in Art
(d-3)
---
| Home Page | Animal Issues | Archive | Art and Photos | Articles | Bible | Books | Church and Religion | Discussions | Health | Humor | Letters | Links | Poetry and Stories | Quotations | Recipes | Site Search | What's New? |
Thank you for visiting all-creatures.org.
Since