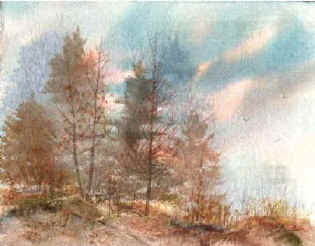 Golden Rule of Horsemanship
From all-creatures.org
SPIRITUAL AND INSPIRATIONAL
POETRY ARCHIVES
| Home Page | Poetry Table of Contents | Archives | Compassion Internet Church |
Golden Rule of Horsemanship

Here is a golden rule, a horseman should live up to;

The priceless knowledge in horsemanship.

Remember each time you approach a horse,

A man of kindness to his horse is kind,

A brutal action is a brutal mind.
Think, the Lord made thee, made the brute.

He who gave thee speech and reason, formed him also mute,

He can't complain;
But our good God has all-seeing eyes,

So behold thy cruelty.

He hears the cries of the mute.

He was created thy servant, not thy drudge.

Remember, his creator is thy Judge.
~ ANONYMOUS
We welcome your comments:
Painting by Mary T. Hoffman - God's Creation in Art
| Home Page | Poetry Table of Contents | Archives | Compassion Internet Church |
Comments can be made to the author or to [email protected]
---
| Home Page | Animal Issues | Archive | Art and Photos | Articles | Bible | Books | Church and Religion | Discussions | Health | Humor | Letters | Links | Nature Studies | Poetry and Stories | Quotations | Recipes | What's New? |
Thank you for visiting all-creatures.org.
Since