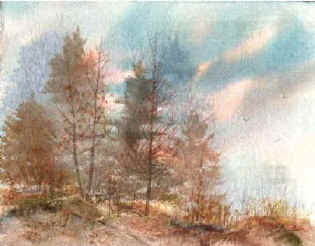 all-creatures.org
SPIRITUAL AND INSPIRATIONAL
POETRY ARCHIVES
| Home Page | Poetry Table of Contents | Archives | Compassion Internet Church |

Sunflowers
By Carol Vito
August 2, 2004
How regal they stand
With their heads bowed
Overseeing the garden of love
With their advantage of height.
They came as surprises
Planted by the birds,
But magnificent in stature.
They are sustainable harvests ~
Recycled, seeds reborn
And insighting such captivating beauty.
Their being is twofold ...
Wonderful additions of golden delight
To the garden,
But delectable 'pickins'
For the colorful goldfinches
Who thrive on their brilliance and splendor.
How interesting how one seed
Planted can turn into so many more...
One seed of affection
Can germinate into a
Blossom-full,
A garden-full.
One flower, standing amidst the others,
But way apart from the others in grandeur...
One flower reflecting
The bright hues of the sun,
Accentuates the garden
With so much added pleasure,
Manyfold.
Funny how they all started out the same size,
But one towers above the rest
Giving nourishment to the soul
And to the feathered friends
Who come to visit...
And partake of these marvels
Of golden opportunities
To see what good, ironically they
Have helped to create.
What a treat to have
This majestic representative of spirit,
With such a harmonious rainbow of blending,
Visit my garden and remain in my heart,
Forever.
"Friends are the flowers in the garden of life".
I am blessed with such a lovely garden.
Even though these gentle blossoms
Of beauty
Appear to wilt and
Fade away into the fall...
And wintry chills
Try to sap their being,
They appear again
In the Spring of our hearts
And are just as grand
As they were before,
Even more so,
Because this the Real,
That can never be lost from the
Everpresence that touches our
Inner feelings... Forever. >>>>>>>
We welcome your comments:

(d-6)
Painting by Mary T. Hoffman - God's Creation in Art
| Home Page | Poetry Table of Contents | Archives | Compassion Internet Church |
Comments can be made to the author or to [email protected]
---
| Home Page | Animal Issues | Archive | Art and Photos | Articles | Bible | Books | Church and Religion | Discussions | Health | Humor | Letters | Links | Nature Studies | Poetry and Stories | Quotations | Recipes | What's New? |
Thank you for visiting all-creatures.org.
Since