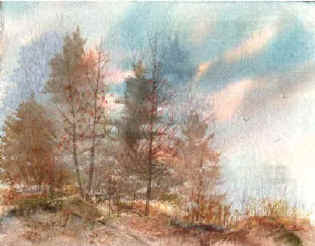 all-creatures.org
ARCHIVE OF
COMMENTS AND DISCUSSIONS
QUESTIONS AND ANSWERS
Our subjects cover: religion (Christian, Jewish and others); diet and lifestyle (vegan and vegetarian); and other miscellaneous subjects.
Why Animal "Abusers" Aren't Concerned with Offending Us
- abuse - offend - alienation -
Comments by Maynard S. Clark - 7 November 2001
I'm always wary of saying that "I" am offended, or that "I" object because the issue is not "MY" feelings, but something bigger and even more fundamentally OBJECTIVE than someone's perceptions or feelings.

Now when someone claims that physical harm is merely "offending" the victim's "feelings" and claims at that point that the offense is "subjective", it becomes quite obvious that the perpetrator of violence is not only callous and insensitive, but both antisocial and dangerous.
(d-3)
| Return to Why Animal Abusers Aren't Concerned with Offending Us Table of Contents |
| Home Page | Archive | Discussion Table of Contents |
Watercolor painting by Mary T. Hoffman - God's Creation in Art
---
| Home Page | Animal Issues | Archive | Art and Photos | Articles | Bible | Books | Church and Religion | Discussions | Health | Humor | Letters | Links | Poetry and Stories | Quotations | Recipes | Site Search | What's New? |
Thank you for visiting all-creatures.org.
Since