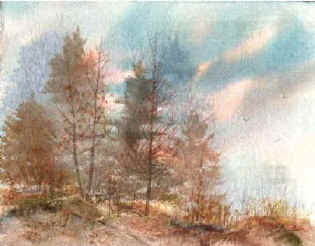 An Ode to 'The Shooter' By Don A Smith
From all-creatures.org
SPIRITUAL AND INSPIRATIONAL
POETRY ARCHIVES
| Home Page | Poetry Table of Contents | Archives | Compassion Internet Church |

An Ode to 'The Shooter'
By Don A Smith
Submitted by the author - 22 Dec 2004
Hello! Blunderbuss man, blasting birds today?
Sound of cannon! I do hear?
Two barrels, that is clear.
Surely, he could not miss a deer.
The bird is dead, full of lead; hits the ground without its head.
Hand reared to die in this cruel fashion,
just to please the shooter's passion.
This bird of beauty is dead and gone.
The shooter has had his day of fun.
The hounds collect the blooded creature,
This does not paint a Christian picture.
To their masters the hounds do run.
Oh! What pleasure? Oh! What fun.
A poem by Don A Smith 1998
We welcome your comments:

(d-7)
Painting by Mary T. Hoffman - God's Creation in Art
| Home Page | Poetry Table of Contents | Archives | Compassion Internet Church |
Comments can be made to the author or to [email protected]
---
| Home Page | Animal Issues | Archive | Art and Photos | Articles | Bible | Books | Church and Religion | Discussions | Health | Humor | Letters | Links | Nature Studies | Poetry and Stories | Quotations | Recipes | What's New? |
Thank you for visiting all-creatures.org.
Since