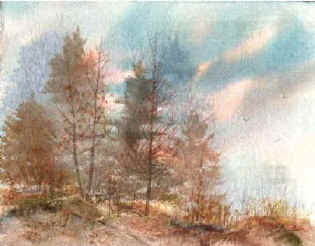 Consider the Lilies
By William Channing Gannett
From all-creatures.org
SPIRITUAL AND INSPIRATIONAL
POETRY ARCHIVES
| Home Page | Poetry Table of Contents | Archives | Compassion Internet Church |
Consider the Lilies
By William Channing Gannett
He hides within the lily
A strong and tender care,
That wins the earth-born atoms
To glory of the air:
He weaves the shining garments
Unceasingly and still,
Along the quiet waters,
In niches of the hill.
We linger at the vigil
With him who bent the knee,
To watch the old-time lilies
In distant Galilee;
And still the worship deepens
And quickens into new,
As brightening down the ages
God's secret thrilleth through.
O toiler of the lily,
Thy touch is in the Man!
No leaf that dawns to petal
But hints the angel-plan.
The flower horizon's open!
The blossom vaster shows!
We hear the wide world's echo, –
See how the lily grows!
We welcome your comments:
Painting by Mary T. Hoffman - God's Creation in Art
| Home Page | Poetry Table of Contents | Archives | Compassion Internet Church |
Comments can be made to the author or to [email protected]
---
| Home Page | Animal Issues | Archive | Art and Photos | Articles | Bible | Books | Church and Religion | Discussions | Health | Humor | Letters | Links | Nature Studies | Poetry and Stories | Quotations | Recipes | What's New? |
Thank you for visiting all-creatures.org.
Since