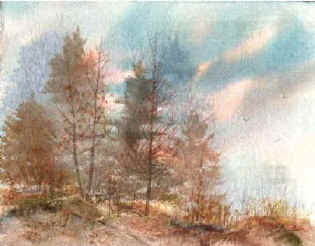 Fragment by Henry Vaughan
From all-creatures.org
SPIRITUAL AND INSPIRATIONAL
POETRY ARCHIVES
| Home Page | Poetry Table of Contents | Archives | Compassion Internet Church |

Fragment
by Henry Vaughan
1621-1695
Welsh Poet
Walk with thy fellow-creatures: note the hush
And whispers among them. There is not a spring
Or leaf but hath his morning hymn; each bush
And oak doth know I AM. Canst thou not sing?
O leave thy cares and follies! go this way,
And thou art sure to prosper all the day.
We welcome your comments:

(d-6)
Painting by Mary T. Hoffman - God's Creation in Art
| Home Page | Poetry Table of Contents | Archives | Compassion Internet Church |
Comments can be made to the author or to [email protected]
---
| Home Page | Animal Issues | Archive | Art and Photos | Articles | Bible | Books | Church and Religion | Discussions | Health | Humor | Letters | Links | Nature Studies | Poetry and Stories | Quotations | Recipes | What's New? |
Thank you for visiting all-creatures.org.
Since