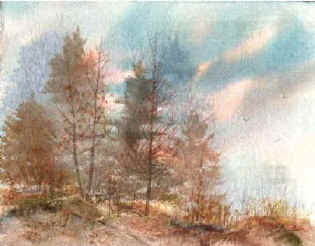 From: Auguries of Innocence
By William Blake
From all-creatures.org
SPIRITUAL AND INSPIRATIONAL
POETRY ARCHIVES
| Home Page | Poetry Table of Contents | Archives | Compassion Internet Church |
From: Auguries of Innocence
By William Blake (1757-1827)
To see a world in a grain of sand,
And a Heaven in a wild flower,
Hold Infinity in the palm of your hand,
And Eternity in an hour.
A robin redbreast in a cage
Puts all Heaven in a rage.
A dove-house fill'd with doves and pigeons
Shudders Hell through all its regions.
A dog starved at his master's gate
Predicts the ruin of the State.
A horse misus'd upon the road
Calls to Heaven for human blood.
Each outcry of the hunted hare
A fibre from the brain does tear.
A skylark wounded on the wing,
Doth make a cherub cease to sing.
…………………………………………..
A riddle or the cricket's cry,
Is to doubt a fit reply.
The emmet's inch and eagle's mile
Make lame Philosophy to smile.
He who doubts from what he sees
Will ne'er believe, do what you please.
If the sun and moon should doubt,
They'd immediately go out.
……………………………………………..
God appears and God is Light,
To those poor souls who dwell in night;
But does a human form display
To those who dwell in realms of Day.
We welcome your comments:
Painting by Mary T. Hoffman - God's Creation in Art
| Home Page | Poetry Table of Contents | Archives | Compassion Internet Church |
Comments can be made to the author or to [email protected]
---
| Home Page | Animal Issues | Archive | Art and Photos | Articles | Bible | Books | Church and Religion | Discussions | Health | Humor | Letters | Links | Nature Studies | Poetry and Stories | Quotations | Recipes | What's New? |
Thank you for visiting all-creatures.org.
Since