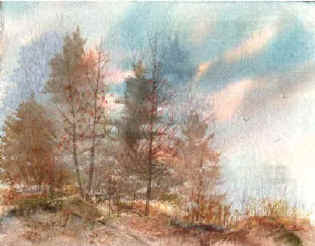 all-creatures.org
SPIRITUAL AND INSPIRATIONAL
POETRY ARCHIVES
| Home Page | Poetry Table of Contents | Archives | Compassion Internet Church |

What Price of Gold?
By Dezire'e Taylor [email protected]
Submitted by the Author 25 Jan 2002
The landscape has turned to gold
Without rain the earth is dry,
flowers without petals, trees without leaves
as a cancer the drought has spread.
Hopes for relief are but false,
life must, for now, take pause.
Beasts search for shade with aching paws.
Rain you cannot buy, not with gold.
Life's hopes and dreams appear false
no water to drink, the pond is dry.
Good will and hope I try to spread.
But there is no green, not a leaf.
Rain will come, a certainty, that is my belief
Now is time that nature pauses,
When rain is here green will spread.
Thunder promises to make green from gold.
I beg make wet from dry!
Thunder please don't be false.
May this vision of gold be false.
Life begins and so emerges a new leaf.
Your promise made good will ease our dry,
keep your promise bold thunder do not pause.
Remembering "All that glisten's is not gold…."
Come forth let your bounty spread.
The crash of thunder begins to spread,
oh black clouds promise you are not false.
Sweet rain, come, take all this gold.
Green appears, here a new leaf,
beauty appears, no need of pause,
heel the beasts, take away the dry.
Thunder shouts glory as rain swallows the dry,
lakes and rivers fill, freshness and life spread.
Enjoy before nature's next pause.
This day I pleaded for, oh sweet rain,
New life emerges, water replenishes every new leaf.
Sweet rain I plead you to take all this gold.
Gold be the colour of dry.
Leaves emergence with rain will spread.
False hopes are now at pause.
We welcome your comments:
(d-2)
Painting by Mary T. Hoffman - God's Creation in Art
| Home Page | Poetry Table of Contents | Archives | Compassion Internet Church |
Comments can be made to the author or to [email protected]
---
| Home Page | Animal Issues | Archive | Art and Photos | Articles | Bible | Books | Church and Religion | Discussions | Health | Humor | Letters | Links | Poetry and Stories | Quotations | Recipes | Site Search | What's New? |
Thank you for visiting all-creatures.org.
Since