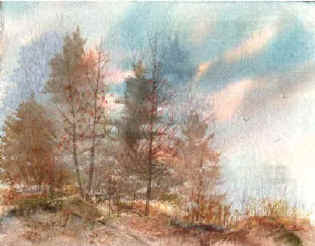 all-creatures.org
SPIRITUAL AND INSPIRATIONAL
POETRY ARCHIVES
| Home Page | Poetry Table of Contents | Archives | Compassion Internet Church |
THE ONE GREAT HEART
By: T. L. Vaswani
Submitted by Maynard S. Clark - 4 October 1998
By One Great Heart the world is stirred:
The one Great Heart doth throb in stars:
Its sorrow beats through striffs and wars:
It thrills through wing and song of bird!

And ages name this Great Heart, - God.
In deepest pain, in mother's tears,
In streams and seas, thro' aching years,
In vale and dale, in soft green sod, -

The One Heart works the One Heart bounds,
And makes all climes and creatures one!
And still in every moon and sun
The One Eternal Heart resounds.

So softly touch the ground you tread:
Nor harm the worm, the bird, the beast:
For of the little ones, the least
Is by the Life Eternal fed!

To every creature be ye kind!
Bring beauty to the lives of all,
And see God's Face in th' great and small!
In Mercy build: in Mercy bind!
Painting by Mary T. Hoffman - God's Creation in Art

| Home Page | Poetry Table of Contents | Archives | Compassion Internet Church |
Thank you for visiting all-creatures.org.
Since