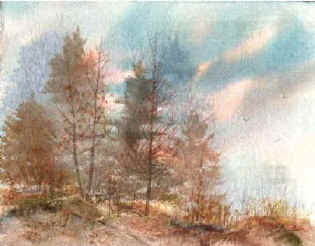 all-creatures.org
SPIRITUAL AND INSPIRATIONAL
POETRY ARCHIVES
| Home Page | Poetry Table of Contents | Archives | Compassion Internet Church |

IN MY DARKEST HOUR
By Sharon Ann Kieffer [email protected]
Submitted by the author - 23 Jan 2004

In my darkest hour when I see no light
I may even feel empty and hopeless at times
I believe that at these times,
God not only carries me like the footprints in the sand
God also reaches down to where I am,
God takes my hand and walks with me
In my quite time so silent within, I believe that is when God talks to me.
And is my very best friend.
God made me a promise that he would never leave nor forsake me
Not just in my darkest hour, God wants me to know that I am his shinning
Light.
I am special, as all his children are to him.
One no more than the other we are just in different places
But God is always in the same place
With each and everyone of us, working his amazing grace
It is when I let go of God's hand,
Like a shepherd, he enfolds me and brings me back into his loving flock
With his divine and everlasting love, and protection he reminds me
In my darkest hour God is my light.
We welcome your comments:

(d-6)
Painting by Mary T. Hoffman - God's Creation in Art
| Home Page | Poetry Table of Contents | Archives | Compassion Internet Church |
Comments can be made to the author or to [email protected]
---
| Home Page | Animal Issues | Archive | Art and Photos | Articles | Bible | Books | Church and Religion | Discussions | Health | Humor | Letters | Links | Nature Studies | Poetry and Stories | Quotations | Recipes | What's New? |
Thank you for visiting all-creatures.org.
Since