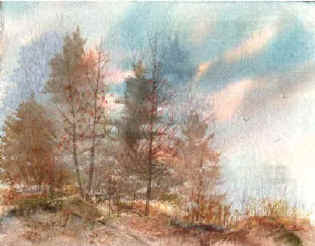 all-creatures.org
SPIRITUAL AND INSPIRATIONAL
POETRY ARCHIVES
| Home Page | Poetry Table of Contents | Archives | Compassion Internet Church |

Ladies of the land
by Dezire'e Taylor [email protected]
Submitted by the author 18 Jan 2002
For 'his' profit they graze endlessly
even on cold wet winter's days.
To the milking shed they go
in rain, hail, and sweltering heat.
Our great ladies of the land.
From birth they are gaoled these
girls of Friesian and Jersey blend.
Out in a paddock they don't escape
neither over wall nor under fence.
Brave Ladies who share a fate.
No bull will they ever see,
on turnips and silage they're feted.
A birth occurs amongst the herd
tomorrow the babe will be stolen away.
Ladies don't you cry!
No Babe this year for she
that will be the end, of her, for sure.
Her feet are swollen and painful
no medicine, no pity, that's the rule.
Off with her head! my dear sweet lady.
We welcome your comments:
(d-2)
Painting by Mary T. Hoffman - God's Creation in Art
| Home Page | Poetry Table of Contents | Archives | Compassion Internet Church |
Comments can be made to the author or to [email protected]
---
| Home Page | Animal Issues | Archive | Art and Photos | Articles | Bible | Books | Church and Religion | Discussions | Health | Humor | Letters | Links | Poetry and Stories | Quotations | Recipes | Site Search | What's New? |
Thank you for visiting all-creatures.org.
Since