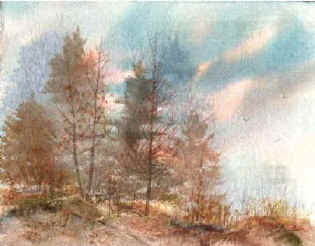 all-creatures.org
SPIRITUAL AND INSPIRATIONAL
POETRY ARCHIVES
| Home Page | Poetry Table of Contents | Archives | Compassion Internet Church |

Lesser Light
By: Bob Groth - March 26, 1992 - www.bobgrothspoems.com
Finished with my work
I climbed into my truck
Sat down on the seat
Having earned another buck.
It rained very hard
Just the day before
The sky exceptionally clear
As I closed the door.
I turned to my left
Looked up into the sky
The moon in itís brilliance
Shining down from on high.
The moon was very full
I could not look away
Stars dancing in the background
What a grand display.
Glowing in the sky
The moon was very bright
Though it were a lightbulb
Centerstage in the night.
Clouds were floating by
Illumined by the moon
And the earth around me
Though midnight were the noon.
So I sat and stared
Entranced by it all
The moon fixed in space
I knew it would not fall.
Then I was reminded
Of thoughts from the Book
How marvelous His creation
As I continued to look.
Oh Lord, how majestic
Is Your great name
For all in the heavens
Declare Your great fame.
The moon and the stars
In the sky above
The work of Your fingers
A sign of Your Love.
Even in their silence
They speak a mighty word
To all on the earth
By all to be heard.
So deep in my soul
I pondered my thoughts
Giving thanks to the Lord
For all He has wrought.
We welcome your comments:

(d-6)
Painting by Mary T. Hoffman - God's Creation in Art
| Home Page | Poetry Table of Contents | Archives | Compassion Internet Church |
Comments can be made to the author or to [email protected]
---
| Home Page | Animal Issues | Archive | Art and Photos | Articles | Bible | Books | Church and Religion | Discussions | Health | Humor | Letters | Links | Nature Studies | Poetry and Stories | Quotations | Recipes | What's New? |
Thank you for visiting all-creatures.org.
Since