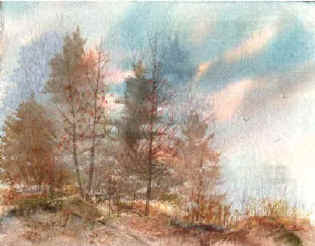 all-creatures.org
SPIRITUAL AND INSPIRATIONAL
POETRY ARCHIVES
| Home Page | Poetry Table of Contents | Archives | Compassion Internet Church |

Live to be Joyous.
By Dezire'e Taylor [email protected]
Submitted by the Author 25 Jan 2002
A time of Joy is for you to see,
Imagine, all good things come to you,
Wondrous times are for you to hold.
Watching children run and play,
Enlightening, it will always be, this view,
When looking for joy, is what you see.
Beautiful and warm this summers day,
Laughter and Joy are not new,
All about you, happiness is for you to hold.
Fresh flowers, butterflies visit today,
Mornings refreshed with the nightís dew,
Look for joy, then youíll see.
Birdís sing, frogs croak, cattle chew hay,
Water glistening in ponds, so blue,
Air is filled with cheer, it is for you to hold.
All about us is beauty today,
Joy from within, just enjoy this day,
Joy is everywhere, look and youíll see,
About you joy appears for you to hold.
We welcome your comments:
(d-2)
Painting by Mary T. Hoffman - God's Creation in Art
| Home Page | Poetry Table of Contents | Archives | Compassion Internet Church |
Comments can be made to the author or to [email protected]
---
| Home Page | Animal Issues | Archive | Art and Photos | Articles | Bible | Books | Church and Religion | Discussions | Health | Humor | Letters | Links | Poetry and Stories | Quotations | Recipes | Site Search | What's New? |
Thank you for visiting all-creatures.org.
Since