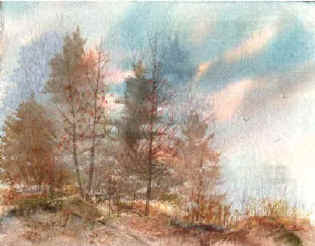 all-creatures.org
SPIRITUAL AND INSPIRATIONAL
POETRY ARCHIVES
| Home Page | Poetry Table of Contents | Archives | Compassion Internet Church |

NATURE'S ANTICIPATION
By: David L. Hatton
Submitted by the author 29 Oct 2001
We have heard her sighing
as she breathes the swelling breeze,
Raising leafy fingers
with the woody arms of trees,
Gently swaying branches
up to touch her Master's face,
Longing for the waking
of the sleeping human race.

We have felt the rumble
of her earth beneath our feet,
Restless for the moment
when her joy will be complete,
When with cheerful quaking
mountains skip to God and prance
In the celebration,
when all nations join the dance.

We have been enchanted
by her fields that long to clap,
Smelled her flowery fragrance,
held her fruit within our lap,
Tasted of her sweetness,
pleasant ploy to whet our thirst,
Luring us to laud Him,
for she knows we must be first.

We have seen her paintings,
fiery sunsets to her King,
Snow and ice in sculptures
meant to rouse our race to sing.
She, awaiting, urges
praise to match her Maker's worth
In a coming concert
only human tongues can birth.

--- David L. Hatton, 12/2/94
http://PastorDavidRN.homestead.com/
[email protected]
(d-2)
Painting by Mary T. Hoffman - God's Creation in Art
| Home Page | Poetry Table of Contents | Archives | Compassion Internet Church |
Comments can be made to the author or to [email protected]
---
| Home Page | Animal Issues | Archive | Art and Photos | Articles | Bible | Books | Church and Religion | Discussions | Health | Humor | Letters | Links | Poetry and Stories | Quotations | Recipes | Site Search | What's New? |
Thank you for visiting all-creatures.org.
Since