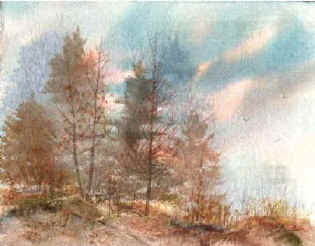 OURSELVES
by M. Linda Steffey
From all-creatures.org
SPIRITUAL AND INSPIRATIONAL
POETRY ARCHIVES
| Home Page | Poetry Table of Contents | Archives | Compassion Internet Church |
OURSELVES
by M. Linda Steffey
We slaughter the Whale, the Deer
And Creatures we hate or fear
But to me it is perfectly clear...
We do the same to ourselves!

We make them slaves in our zoo
For science we torture them, too
Love, Kindness we have for so few
And we do the same to ourselves!

Our Mother is Earth it is said
Yet we treat Her like She is dead
A pesticide diet She's fed
And we feed the same to ourselves!

Our Brother's heads hang on our wall
For money we hunt toenails and gall
And for Ivory the Elephants fall...
And this we do to ourselves!

All living Creatures connected
How we treat them, ourselves is reflected
Crucified on a Cross, rejected!
Yes, we do such things to ourselves!

God in Heaven...please hear my Prayer
For these sins Mankind will bear
The Earth all living things share
And Love all as we Love ourselves....
We welcome your comments:
Painting by Mary T. Hoffman - God's Creation in Art
| Home Page | Poetry Table of Contents | Archives | Compassion Internet Church |
Comments can be made to the author or to [email protected]
---
| Home Page | Animal Issues | Archive | Art and Photos | Articles | Bible | Books | Church and Religion | Discussions | Health | Humor | Letters | Links | Nature Studies | Poetry and Stories | Quotations | Recipes | What's New? |
Thank you for visiting all-creatures.org.
Since