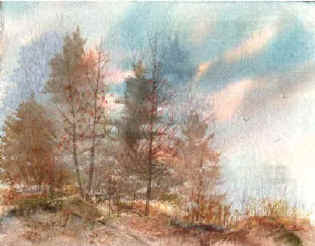 all-creatures.org
SPIRITUAL AND INSPIRATIONAL
POETRY ARCHIVES
| Home Page | Poetry Table of Contents | Archives | Compassion Internet Church |
PLEASE
by Guila Manchester

When my time comes to climb the golden stair,
Please send a little bird to meet me there.
Please let me feel the touch of silky fur,
And listen to the music of a purr.

Please let me watch a deer at setting sun
Stand free and unafraid of hunter's gun.
Please let me catch a glimpse of wagging tail,
And know, at last, that kindness will prevail.

So many lives are lived in pain and fright.
So many never know but the darkest night.
So many wander hungry and alone.
I long to know they, too, are welcomed home.

I know it's joy supreme to be with YOU.
I want so much for them to share it, too.
If there's a bit of heaven meant for me,
Let them be there, Dear Lord, Please let it be.
Painting by Mary T. Hoffman - God's Creation in Art
| Home Page | Poetry Table of Contents | Archives | Compassion Internet Church |
Thank you for visiting all-creatures.org.
Since