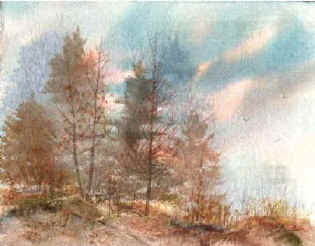 all-creatures.org
SPIRITUAL AND INSPIRATIONAL
POETRY ARCHIVES
| Home Page | Poetry Table of Contents | Archives | Compassion Internet Church |

Psalm 1 (a rendition)
How blessed is the man
Who does not walk
In the counsel of the wicked
Or listen to their talk.
He stands not with those
Who follow the paths of sin
Nor sits with the scornful
Whose hearts rebel within.
But the desire of his heart
And his greatest delight
To enjoy the word of God
Every day and every night.
For in God's Holy Word
He receives direction
Is taught eternal truth
Which leads to his perfection.
He will be firmly planted
By refreshing streams of water
Growing like a living tree
Reaching high in godly splendor.
Yielding fruit in it's season
It's leaves will ever be green
Prospering in all he does
By all men, he will be seen.
The ungodly are not so
But like discarded chaff
Which the wind drives away
Forever gone is their laugh.
Therefore in judgment
The wicked will not stand
Nor sit with the righteous
They chose the wrong plan.
The way of the righteous
Will live on forever
In the presence of God
Which he will not sever.
But the way of the ungodly
Will perish from sight
For walking the pathway
Away from God's light.
~Bob Groth - June 11, 1992 - www.bobgrothspoems.com
Read Bob's letter that accompanied this poem
We welcome your comments:

(d-5)
Painting by Mary T. Hoffman - God's Creation in Art
| Home Page | Poetry Table of Contents | Archives | Compassion Internet Church |
Comments can be made to the author or to [email protected]
---
| Home Page | Animal Issues | Archive | Art and Photos | Articles | Bible | Books | Church and Religion | Discussions | Health | Humor | Letters | Links | Poetry and Stories | Quotations | Recipes | What's New? |
Thank you for visiting all-creatures.org.
Since