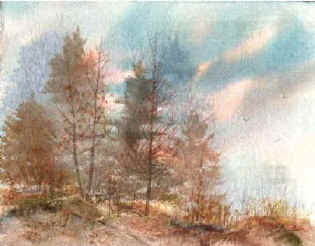 all-creatures.org
SPIRITUAL AND INSPIRATIONAL
POETRY ARCHIVES
| Home Page | Poetry Table of Contents | Archives | Compassion Internet Church |

Sacrifice
Here is a picture
God put upon my heart
To share with the world
'Tis only a small start.
There on a lonely hill
So very far away
Is a cross that bears
All my sins away.
Before I was a thought
Before I was even born
Christ Jesus bore my sins
Starting with a crown of thorns.
King of Jews they called Him
Instead of King of Kings
Shouting out at His name
Hateful words they would fling.
They burdened Him with troubles
That were not His to bear
He bore the cross of shame
My sins He chose to wear.
As they laid Him on the ground
And stripped Him of his clothes
They nailed Him to a cross
With a hate only He knows.
First they nailed one hand
Then they nailed the other
Down to his feet they went
And drove in another.
And as they drew Him up
For all the world to see
Beaten down and broken
Were daring Him to flee.
The Son of God stood strong
Words of love He did not shun,
"Father God forgive them,
They know not what they've done".
They pierced Him in His side
Blood and water began to flow
Not once did He strike out
At the ones who hurt Him so.
Oh how blessed are we
To have a Father so bold
To love us even when
Hearts have grown so cold.
Every day that we sin
We crucify Him again
Every day that we sin
He intercedes for us within.
Father in heaven above
You sent Your only Son
He was sacrificed for me
He shed His very own blood.

praise Your Holy Name
For Your wondrous gift to me
Eternal life with You forever
My heart I give to Thee.
~Kathleen Groth-Clodt
March 12, 2004
We welcome your comments:

(d-6)
Painting by Mary T. Hoffman - God's Creation in Art
| Home Page | Poetry Table of Contents | Archives | Compassion Internet Church |
Comments can be made to the author or to [email protected]
---
| Home Page | Animal Issues | Archive | Art and Photos | Articles | Bible | Books | Church and Religion | Discussions | Health | Humor | Letters | Links | Nature Studies | Poetry and Stories | Quotations | Recipes | What's New? |
Thank you for visiting all-creatures.org.
Since