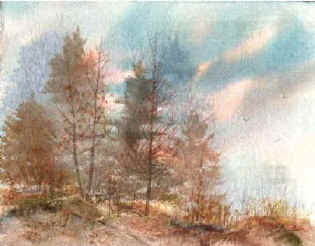 THE WARS WE MAKE
by Nicholas Peters
From all-creatures.org
SPIRITUAL AND INSPIRATIONAL
POETRY ARCHIVES
| Home Page | Poetry Table of Contents | Archives | Compassion Internet Church |
THE WARS WE MAKE

by Nicholas Peters
Submitted by Stan Penner
I gaze into the world with sorrowing eyes
And see the wide-abounding fruits of hate.
We fight, we say, for peace, and find
The wars we make

To be a spring of hate and source of future wars.
Is there no peace for man?
No hope that this accursed flow
Of blood may cease?
Is this our destiny: to kill and maim
For peace?

Or is this `peace' we strive to gain
A thin unholy masquerade
Which, when our pride, our greed, our gain is
touched too far,
Is shed, and stands uncovered what we are?

Show me your light, O God
That I may fight for peace with peace
And not with war;
To prove my love with love,
And hate no more!
The Peters family has given permission to have the poem published.
We welcome your comments:
Painting by Mary T. Hoffman - God's Creation in Art
| Home Page | Poetry Table of Contents | Archives | Compassion Internet Church |
Comments can be made to the author or to [email protected]
---
| Home Page | Animal Issues | Archive | Art and Photos | Articles | Bible | Books | Church and Religion | Discussions | Health | Humor | Letters | Links | Nature Studies | Poetry and Stories | Quotations | Recipes | What's New? |
Thank you for visiting all-creatures.org.
Since