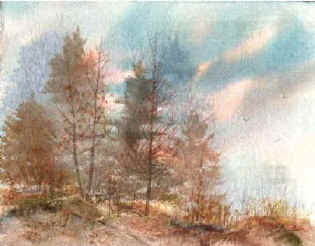 The Word
By Richard Realf
From all-creatures.org
SPIRITUAL AND INSPIRATIONAL
POETRY ARCHIVES
| Home Page | Poetry Table of Contents | Archives | Compassion Internet Church |
The Word
By Richard Realf (1834-1878)
O Earth! Thou hast not any wind that blows
Which is not music; every weed of thine
Pressed rightly flows in aromatic wine;
And humble hedge-row flower that grows,
And every little brown bird that doth sing,
Hath something greater than itself, and bears
A living word to every living thing,
Albeit holds the message unawares.
All shapes and sounds have something which is not
Of them: a spirit broods amid the grass;
Vague outlines of the Everlasting Thought
Lie in the melting shadows as they pass;
The touch of an eternal presence thrills
The fringes of the sunsets and the hills.
We welcome your comments:
Painting by Mary T. Hoffman - God's Creation in Art
| Home Page | Poetry Table of Contents | Archives | Compassion Internet Church |
Comments can be made to the author or to [email protected]
---
| Home Page | Animal Issues | Archive | Art and Photos | Articles | Bible | Books | Church and Religion | Discussions | Health | Humor | Letters | Links | Nature Studies | Poetry and Stories | Quotations | Recipes | What's New? |
Thank you for visiting all-creatures.org.
Since