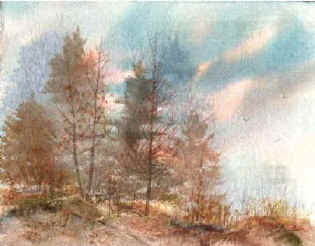 all-creatures.org
SPIRITUAL AND INSPIRATIONAL
POETRY ARCHIVES
| Home Page | Poetry Table of Contents | Archives | Compassion Internet Church |

THIS MASK
By: Ronald C. Caldwell [email protected]
http://home.bellsouth.net/p/pwp-apigslife
I wear this Mask I call my face,
To hide the sorrow this world has placed.
Many times Iíve wondered why,
Man is so cruel in all creaturesí eyes.
Taking their lives without despair,
For the feelings they have and the love they share.
I hide behind this Mask you see,
For the pain and sorrow that continues to be.
For since the creation of the world His invisible attributes, His eternal power and divine nature, have been clearly seen, being understood through what has been made, so that they are without excuse. (Romans 1:20 NASU). Until we learn to extend our sphere of love and compassion to all living beings, whether human or non-human, we will never know peace. (FLH)
We welcome your comments:

(d-5)
Painting by Mary T. Hoffman - God's Creation in Art
| Home Page | Poetry Table of Contents | Archives | Compassion Internet Church |
Comments can be made to the author or to [email protected]
---
| Home Page | Animal Issues | Archive | Art and Photos | Articles | Bible | Books | Church and Religion | Discussions | Health | Humor | Letters | Links | Poetry and Stories | Quotations | Recipes | What's New? |
Thank you for visiting all-creatures.org.
Since