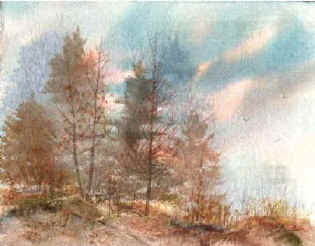 all-creatures.org
SPIRITUAL AND INSPIRATIONAL
POETRY ARCHIVES
| Home Page | Poetry Table of Contents | Archives | Compassion Internet Church |

Dimming the Lights July l6, 2004
By Carol Vito [email protected]
(Poem below photo)
God dimmed the lights in a most spectacular way
Again today.
One could only stand in awe.
His invisible canvas started out as a brilliant display
Of yellows, oranges, pinks, deep magenta,
With splashes of sky blue highlighted within.
Some strokes He made broad and bold,
Defining clouds with their pronounced outlines,
Others He lightly feathered out with the
Vague suggestions of a wispy, dry brush.
What a seasoned Artisan...With such a
Beginningless and Endless portfolio of
Collected samples,
All enjoyed for the moments and faded away,
But returned in another evening
With the same majesty of an
All new debut, as it were the first time...
A brand new theme,
Everchanging colors
Blending and radiating
And dimming and
Beautifying perfection to it's absolute peak.
Ahhh... to be able to appreciate such
Glorified heaven on earth
And just stare and stare
And stare some more...
Soaking in the setting rays
With a warmth that unsolidifies the heart...
And raises the spirit to a
Place that melts off into the distance
Of sight, but not out of the deep canyons
Of the delighted and satisfied soul.
Thank you Again, Dear God,
For framing a corner of our world
With such a sharing of
Exquisite artistry,
It just had to be written about.
Even though poets have been
Paying Your masterpieces reverence
Throughout history,
And your inspiration never dulls
And never will,
This rendition just had to be shared.
It was too beautiful to go unappreciated.
See: Heartfelt Poems - By: Carol Vito
We welcome your comments:

(d-6)
Painting by Mary T. Hoffman - God's Creation in Art
| Home Page | Poetry Table of Contents | Archives | Compassion Internet Church |
Comments can be made to the author or to [email protected]
---
| Home Page | Animal Issues | Archive | Art and Photos | Articles | Bible | Books | Church and Religion | Discussions | Health | Humor | Letters | Links | Nature Studies | Poetry and Stories | Quotations | Recipes | What's New? |
Thank you for visiting all-creatures.org.
Since